How Photomemoirs works. Photomemoirs.co is an easy way to write and publish your memoirs using memorable photos of your life.
How it works


Photomemoirs.co is an easy way to write and publish your photo memoirs. What are photo memoirs? memoirs using memorable photos of your life. Anyone can use Photomemoirs.co. We help make writing it easy and fun to write your memoirs because Photomemoirs.co uses your own photos and words to help you tell your stories.
Photos are interesting and fun to look at and hearing the full story behind the photo is even better. Writing your memoirs using Photomemoirs is as easy as showing your friends and family your favorite photos and talking about the people and events in the photograph.
The only difference is that we help you write it down and publish it as a book for your friends and family to enjoy and treasure.
A picture tells a thousand words, and it's true. Not everyone can write a story, but everyone can tell others the story of their own photos in their own words. Photomemoirs uses your own photographs and using your own words to tell the story of your best and most loved photos.
We help you every step of the way from structuring your photos to helping you record your own stories about the events in the photos.
Then we get it all down on paper and then we put it all together with a lovely front and back cover and publish your book in e-book and paperback.
Photomemoirs is like an expanded photo album with more information about each picture than just a caption.
Photomemoirs.co is a real book but much easier to write and structure than a traditional autobiography.
How to get started
First read how Photomemoirs works before placing an order or making any payments. When you have decided to use the Photomemoirs, then
contact
us and we will send you a Photomemoirs.co starter pack which contains the
Photomemoirs instruction manual.

Follow the simple instructions and before you know it you will have written your memoirs!
It works like this:
>
Find 30, 40 or 50 of your own photographs of significant people, places and events in your life and arrange them in order.
>
Find tips and inspiration in the Photomemoirs instruction manual for how to choose the best photos and how to arrange them in order using the Photomemoirs storyboard pages
>
Use a Photomemoirs storyboard page for each photo so that each photo has a number, title and reminder words about what you will talk about.
>
Then use the dictaphone to tell and record the story in your own words - just as if you were showing a photo to friends and family.
>
Send us the photos and dictaphone recordings in digital form ( we will tell you how) and we will make it into a your Photomemoirs book.
Of course we support you every step of the way from beginning to end.
That's it!
See how a PhotoMemoirs.co book can look.
Copenhagen to Ipoh - on Amazon
Photomemoirs is a fun project that you can do by yourself or with your partner or a family member. It can be a special family project!
Photomemoirs.co supports you all the way. We begin by sending you a Photomemoirs starter pack which contains your easy-to-use instruction manual.
The Photomemoirs instruction manual has all the information you need to help you from the beginning all the way to your finished Photomemoirs book which can be an e-book or a paperback.
We can loan you a dictaphone, or if you prefer to buy one, then we can tell you how and where to buy a dictaphone online, or in a photo store near you.

The Photomemoirs.co starter pack and instruction manual has clear instructions on how to use the dictaphone and how you can send us the photos and the voice recordings you make yourself.


Don't worry if you don't know anything about digital photos or audio files. That's not a problem. We are always ready to help you.
We can also help you to have your photos converted from paper to a digital version at a local photo service store near your home.
Photo stores can easily make digital copies of the photos and they can even send them to us, if you prefer.
We help you every step of the way and provide support via e-mail.
Contact us
by e-mail to get started.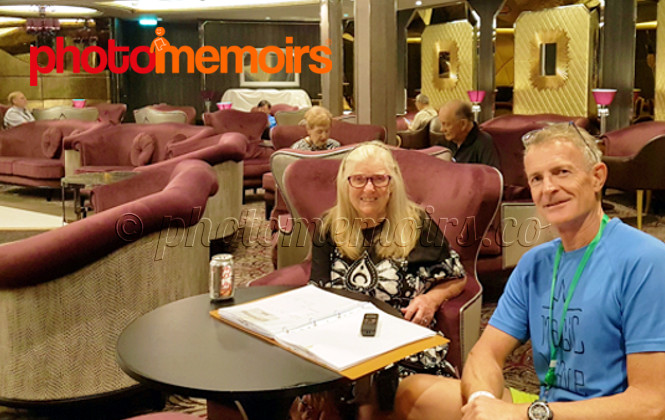 Lisette Williams with son Carl recording her Photomemoirs in 2018 onboard the cruise ship Symphony of the Seas


Why write your memoirs?
How to write memoirs
Why choose Photomemoirs
© Copyright
Photomemoirs.co
Do not copy from this page without permission
All rights reserved