How to write your memoirs using Photomemoirs - an easy and fun way to write and publish your memoirs by recording the stories of your photographs.
How to write your memoirs using Photo Memoirs


The Photomemoirs system is an very easy and fun way for people who don't really consider themselves as writers to "write" and publish a memoir

It's also a wonderful project for families that brings joy to the whole family from the youngest to the oldest generations.

It's very easy to write memoirs. Anyone can write a PhotoMemoir by writing or recording life stories based on your own photographs.

You simple pick your favourite photos and then tell the story of each photo by writing it - or recording it using a dictaphone (and soon on our new app * see below )
Then send us your writings or recordings and the photographs and leave the rest to us!
Photomemoirs will transcribe and edit your recording and put it all together so that your memoirs can be published as a paperback book or as a Kindle ebook on Amazon.
Then your friends and family can order it and enjoy your memoirs.
You don't have to order any books up front and you don't have to be a writer or have writing skills.
All you have to do, is collect your favourite photos and tell the story behind them - just as if you were showing your friends or family a photograph and telling them about it.
We like to say that
Photomemoirs
is more than a photo album but less than an autobiography.
Think of it like as an "expanded" photo album with longer stories about each picture rather than just a caption.
Photomemoirs.co is a real memoir book but much easier to write and structure than a traditional autobiography.
For inspiration have a look inside the first published Photomemoirs book which is called
"Copenhagen to Ipoh"
It tells the story of 2 years spent in Malaysia in the 1950 by a Danish girl who became a British Army wife.

What can a photo memoir be about

A photo memoirs book can be about a variety of subjects.

It could be, for example,
- a life story,
- a family history,
- a special event or time in your life
- a business that you owned or worked in.
- a person you want to remember or a place you lived.
- a special journey

or something else...

Who can write photo memoirs
Anyone can write a memoir using the Photomemoirs.co method.
We help make "writing "your memoirs easy and fun because Photomemoirs.co is based on your memories of your photos in your own words.
We help you every step of the way with instructions and advice about how to structure your photos and how to record your stories.
How to get started
When you have decided to use the Photomemoirs, then
contact
us and we will send you a Photomemoirs.co
starter pack
with the
Photomemoirs instruction manual
Then follow the simple instructions to record your stories
It works like this:
-
Choose 60, 100 or 120 of your own photographs and arrange them in order.
-
Find
tips
and
inspiration
in your Photomemoirs User Manual on how to choose the best photos - and how to arrange them in order using the Photomemoirs photosheets
-
Use a Photomemoirs photosheet for each photo, so that every photo has a number, a title and reminder notes about telling the story.
-
Then write the story of each photo in your own words - just as if you were showing a photo to friends and family.
-
Finally send, upload the photos and stories, or recordings (
your photomemoirs editor will show you how to do this
) and we will format your memoirs and publish it as a superb Photomemoirs book on Amazon or as a privately published book.
- We will send you a finished paperback book and you can order more at special author prices. If you book is published on Amazon, then friends and family can order directly there for shipment all over the world.
Soon you will also be able to use the new Photomemoirs app for smartphones and tablets. This means that you can take digital photographs of paper photographs and then record your stories using your smartphone or tablet. Then just press a button to send it all to us!
Photomemoirs is a fun project that you can do by yourself, with your partner or a family member or friend. Or it can be a joint family project!
Photomemoirs.co will support you all the way.
That's it!
See how a finished PhotoMemoirs.co book can look.
Copenhagen to Ipoh - on Amazon
Contact us
by e-mail to get started.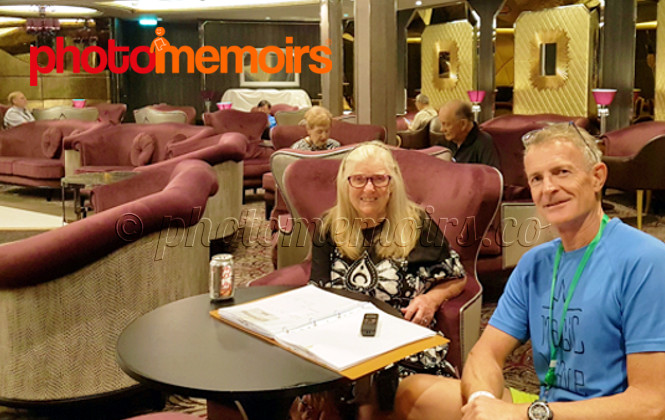 Lisette Williams with son Carl recording her Photomemoirs onboard the cruise ship Symphony of the Seas


Why write your memoirs?
How to write memoirs
Why choose Photomemoirs
© Copyright
Photomemoirs.co
Do not copy from this page without permission
All rights reserved